This slideshow requires JavaScript.
The artist, Remy, installed reproductions of gruesome photographs from newspapers on a wall in the city's historic district. The historic preservation board has ruled that the works must be removed within two weeks.
SANTA FE, New Mexico — About five years ago, a set of posters appeared on an adobe wall on the corner of Old Pecos Trail and Camino Lejo — an intersection that sits at the gateway to Santa Fe's famed Museum Hill and is situated on one of the city's main arteries. The signs were put up by a local organization called Santa Feans for Justice in Palestine, and depicted pro-Palestinian slogans and images, including images of Palestinian children who were killed during Operation Protective Edge, a 2014 military campaign by Israel Defense Forces in Gaza.
The posters were soon torn down by an objector, and a years-long campaign ensued.
That is, until January 4, when a Navajo activist and artist who goes by the name Remy installed a series of large-scale works on the wall, each depicting an image taken from the news. Remy, who had heard about Santa Feans for Justice in Palestine and their frequent attempts to display pro-Palestinian imagery on this wall, installed the work without permission, though Miller intends to keep it. "I wanted to widen the field of vision for that struggle, rather than relegate it into predetermined spaces. You can imagine where the indigenous analogies play into all of that," he told Hyperallergic. The images are life-size renderings of photographs of Palestinian children and civilians and IDF soldiers, and might be familiar to those who have seen them circulating online. They include a solider pointing a gun at a family, a father shielding his 12-year-old son Muhammad al-Durah from a soldier, a 14-year-old boy named Faris Odeh throwing a rock at a tank, and a teenage boy named Fawzi al-Junaidi being carried blindfolded by a group of soldiers.
"I lived with a Palestinian family in the US around the time 9/11 happened," Remy said. "There were a lot of connections we were making in terms of our indigenous struggles." The artist likened his own resistance to that Faris Odeh, the young boy depicted facing a tank. "Even though I'm using everything in my arsenal, I'm up against armor and steel," he said. Remy also created a video work of the project, which can be found on his Instagram page. "Art should move you to change," he emphasized.
Good Read: Navajo Artist Creates Controversial Pro-Palestinian Mural on Santa Fe's Eastside
**
The Chinook Indian Nation was federally recognized in 2001 for about 18 months before the George W. Bush administration revoked its recognition. In 2017, the tribe sued for the right to repetition after the federal recognition process was overhauled. Part of the tribe's argument for why it should be able to reapply is that the rule changes give it a better chance than it had when it applied in 2001. Leighton said it is unclear whether the new process is different, "because there is so much mischief in the treatment of the Indian in this country.""If I were just a citizen today or if I were in Congress, I would be in favor of a deep dive into the bastardization of the administrative process," Leighton said.
NEWS: Judge calls out 'mischief' in treatment of Chinook | South County News | chinookobserver.com
**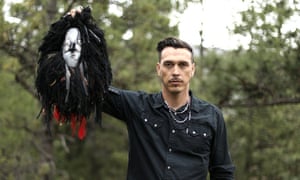 'Every time I exhibit work, somebody says, "You don't look Native American to me."' … Cannupa Hanska Luger. Photograph: Marco Pavan
SEE: Buffalo jumps and handmade lingerie: the Native American artists 'reversing colonialism' | Art and design | The Guardian
"Somebody's Daughter" MMIW Documentary Premiere Highlights Native American 2020 Presidential Forum
Earlier on this blog: Missing and Murdered (MMIWG)
Native Americans whose ancestors suffered at the hands of 17th-century European settlers and adventurers are hoping commemorative events marking the 400th anniversary of the Mayflower's journey will reveal their story to the whole world – and even lead to the recovery of one their long-lost treasures.
A year-long series of exhibitions, performances and community events will be centred on the Devon port of Plymouth, four centuries after the ship set sail for North America, and thousands of people from both sides of the Atlantic are expected to take part.
Organisers say that the close involvement of members of the Wampanoag nation, whose ancestors were all but wiped out following the arrival of the colonists in 1620, is crucial to the success of the project. "We're very pleased to be standing up as equals on an international platform to tell our story," said Paula Peters, who is a member of the Wampanoag and sits on an advisory committee helping shape the British commemoration…
BIG NEWS: Mayflower 400 events could help recover lost Native American treasure | Culture | The Guardian
**
Published January 19, 2020
Thousands of women rallied across the United States on Saturday at 2020 Women's March events around the country. Among the thousands were Indigenous women who displayed Murdered and Missing Indigenous Women (MMIW) signs to bring attention to this tragic problem across America.
Source: Indigenous Women Show Strength at 2020 Women's Marches to Highlight MMIW Epidemic — Native News Online
Breaking News
HARDIN, Mont. — Big Horn County Sheriff Lawrence C. Big Hair announced that the body of Selena Faye Not Afraid was found by Department of the Interior search team on Monday morning.
The 16-year-old teen went missing on New Year's Day when she walked away from a broken-down vehicle at rest area between Harding and Billings, Montana.
"At about 1033 hours a Department of the Interior Team found her during a systematic grid search of an area southwest area along I-90 between Hardin and Billings," said Sheriff Big Hair in a press statement released.
The sheriff says an autopsy will be conducted, but foul play is not suspected at this time.
The search for Selena gained national attention. Just Monday morning The New York Times published a story about her being missing and the tragic high number of Native females missing in Montana.
First, I do apologize if I miss your blog posts. As expected with a mourning period, I am not online as often.
I invite anyone who wants to be in touch with me to use this form as often as you need.  More news next month…