Indigenous leaders vowed Thursday to protect their Alaskan lands from fossil fuel exploitation after the Trump administration moved closer to allowing drilling along the coastal plain of the Arctic National Wildlife Refuge—a move the House just tried to block."
The Gwich'in are protectors," said Bernadette Demientieff, executive director of the Gwich'in Steering Committee, "and we will not give up."
PLEASE READ: 'We Will Not Give Up,' Say Indigenous Groups, as Trump Admin Gets Closer to Fossil Fuel Pillage of Arctic Refuge | Common Dreams News
**
Some of the outlets participating in Covering Climate Now will share their climate coverage with one another, though this is by no means obligatory. Many outlets will publish or broadcast only stories they themselves produce. This decision is entirely up to each participating outlet. A full list of participating outlets follows.
FINALLY! Good: Covering Climate Now signs on over 170 news outlets – Columbia Journalism Review
Because the oceans cover three fifths of the globe, this correction implies that previous estimates of overall global warming have been too low. Moreover it was reported recently that in the one place where it was carefully measured, the underwater melting that is driving disintegration of ice sheets and glaciers is occurring far faster than predicted by theory—as much as two orders of magnitude faster—throwing current model projections of sea level rise further in doubt.
READ: Scientists Have Been Underestimating the Pace of Climate Change – Scientific American Blog Network
**
"As somebody who lives here in Alaska — and I've reported all over the Arctic and I've been to the North Pole twice, 10 years apart — I have a pretty good idea of how bad [climate change] is, and I think most Americans have a pretty good idea of how bad it is. And I'm a lot more interested in what we're doing about it, and I don't think I'm alone," Arnold said.
WHAT REPORTERS GET WRONG:  "They focus on gloom and doom, desensitizing readers to the subject."
From my research, I've learned that there's a huge body of research that shows that this gloom-and-doom narrative in climate change reporting leads people to TUNE OUT. This sort of daily drip of stories — the warmest year on record; the least amount of ice in the Bering sea; a month ago it was the decline of outdoor ice skating rinks in Canada — it just reaches this point where people feel hopeless and overwhelmed. And when we feel that way, psychologists say, we tend to just avoid and deny, and tune out."
GOOD READ: Covering climate change: What reporters get wrong and how to get it right
**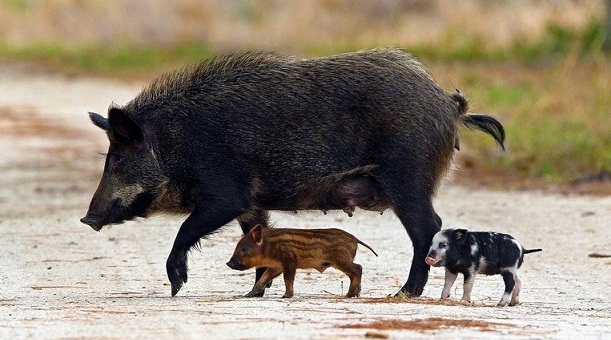 US officials have warned that feral hogs heading across the border from Canada may pose a danger to the local environment.The US Department of Agriculture (USDA) reported that sightings of the feral animals on the US-Canadian border have increased in recent years.
WHAT?: US officials warn of danger of feral hogs heading across the border from Canada
From the Intercept
Read our Complete CoverageClimate Crimes
** (oops, had to change the top photo, had used the wrong one)
nîpawistamâsowin: We Will Stand Up, Tasha Hubbard, provided by the National Film Board of Canada
LISTEN: nîpawistamâsowin: We Will Stand Up by Tasha Hubbard – NFB