Part of the reason for why McCarthy's scandal got little or no attention is because there isn't an unspooled Democratic leader firing off out horrendously racist "Pocahontas" and Trail of Tears tweets as Trump keeps doing about Warren.  (The troll-in-chief has to troll.)
Consequently, the television news media doesn't pay any attention to the McCarthy story, which means voters don't pay attention either. And when reporters notice that voters don't care, the conventional wisdom calcifies.
The circle of crapola goes the other way, too: Trump says "Pocahontas" is a fraud; the news media picks up the tweets and runs them without debunking them; voter outrage grows; the Beltway reporters note the outrage and then tell Chuck Todd on "Meet the Press" that it's a disqualifying scandal for Warren because voters are pissed.
But why are they pissed, if they actually are? Because the press told them to be.
See?
And Trump wonders why Democrats are so angry.
As if that weren't objectionable enough, there's never any effort to put the Native American story in the proper context. How does Warren's thing stack up to other scandals? Is this as bad or worse than Kevin McCarthy's brother-in-law receiving millions in taxpayer funds because he claimed membership in a disputed tribe? Should we care about this as much as, say, the fact that literally every major organization linked to the Trump family is under state and federal investigation for rampant fraud?
Context be damned in the face of publishing more screamer headlines about — say it with me — Democrats in disarray.
WOW: Scandal double standard: Dems pay the price for every misdeed, while the GOP skates | Salon.com
Thanks to KC for letting me know about this… This is the playbook both sides use to control the mainstream media…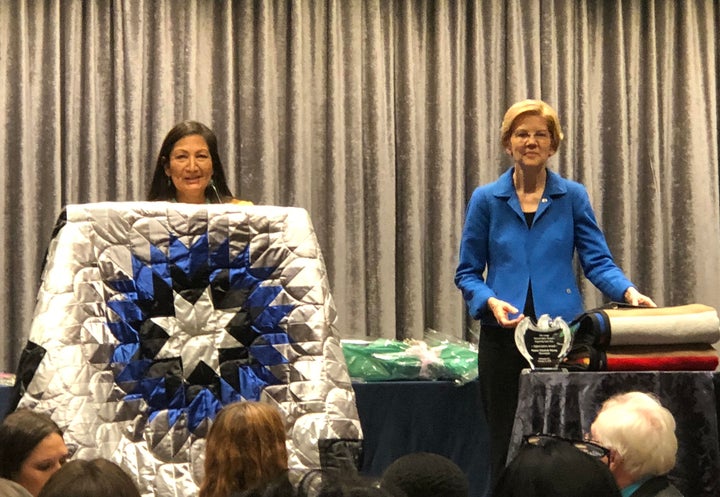 TOP PHOTO: Sen. Elizabeth Warren (D-Mass.) is presented with a shawl of thanks from Native American women.
Elizabeth Warren receives standing ovation at surprise visit to Native American conference: report
"The alarming number of missing and murdered indigenous women and girls continues to grow," the senator says
Warren spoke at the National Indian Women's "Supporting Each Other" lunch, where she introduced Cheryl Andrews-Maltais, the chairwoman of the Wampanoag Tribe of Gay Head Aquinnah in Massachusetts, HuffPost first reported. The luncheon took place during an annual meeting of the National Congress of American Indians.
In her speech, Warren praised Native American women, specifically Reps. Deb Haaland (D-N.M.) and Sharice Davids (D-Kan.) — the first two Native women elected to Congress. The progressive lawmaker, who reportedly received a standing ovation from tribal leaders and other Native attendees as she approached the stage, detailed several legislative priorities related to the Native American community.
"The alarming number of missing and murdered indigenous women and girls (#MMIWG) continues to grow," she said, according to The Daily Beast. "But Congress failed to pass legislation to address this epidemic."
"Every day, there's a racist tweet, a hateful tweet – something really dark and ugly," Warren said of Trump. "And what are we, as candidates, as activists, the press, going to do about it? Are we going to let him use those to divide us?"