"T.C. Cannon retrieved Native American people, as a subject, from cardboard-thin caricatures spawned by old photos, kitschy paintings, and western films. The men and women he painted are arresting and complicated."  — The Boston Globe
This slideshow requires JavaScript.
 :::AT THE EDGE OF AMERICA::: One of the most influential, innovative, and talented Native American artists of the 20th-century, T.C. Cannon embodied the activism, cultural transition and creative expression that defined America in the 1960's and '70s. Cannon's work — as an artist, poet, and aspiring musician — is deeply personal yet undeniably political, reflecting his cultural heritage, experience as a Vietnam War veteran, and the turbulent social and political period during which he worked.
Cannon preferred bold color combinations, mash-ups between Native and non-Native elements and never shied away from the complexity and nuance of identity politics. Cannon interrogated American history and popular culture through his Native lens, and exercised a rigorous mastery of Western art historical tropes while creating an entirely fresh visual vocabulary. T.C. Cannon: At the Edge of America celebrates Cannon's creative range and artistic legacy through nearly 90 paintings and works on paper, as well as poetry and music. READ: pem.org | T.C. Cannon: At the Edge of America
 ***
But as Scientific American reported at the time, the museum's scientists did not consult modern tribes before extracting DNA from the remains because the museum deemed the bones impossible to link to any specific group. They should have invited input from tribes, both out of respect for their overarching concerns about ancestors and because collaboration might have enriched the study—through the addition of tribal knowledge about kinship systems, for example, or through comparative DNA samples from any modern tribes interested in providing them.  Source: Indigenous Remains Do Not Belong to Science – Scientific American
When will all the Pilgrim graves be ripe for the picking – when will scientists start to dig them up and put their bones on display? Will we have weekend digs of their graves too? Just askin' for a friend…

Jewelry dealer Nael Ali will be the first defendant sentenced in the most extensive federal investigation into Indian arts and crafts fraud.
In the past century Hollywood has determined how many people view Indigenous peoples.

In
recent years some say representation has improved both in front and
behind the camera but has Hollywood really moved beyond the western?

APTN Investigates Friday: Cowboys and Pretendians pic.twitter.com/tliPYOZhvj

— APTN National News (@APTNNews) April 16, 2018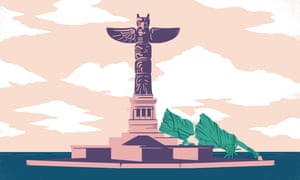 NO JOKE! Historically, immigrants were given special rights to take Native land. If Trump says we are no longer a nation of immigrants, that has consequences… (poor guy never thought about this!)  The young American republic preserved this European doctrine. The US supreme court formalized the Doctrine of Discovery in three famous cases of 1823, 1831 and 1832. Chief Justice John Marshall took for granted the obvious fact that America was the homeland of the Native Americans, "the rightful occupants of the soil". By the logic of "discovery", Native Americans had no rights because America was their homeland: "Their power to dispose of the soil at their own will to whomsoever they pleased was denied by the original fundamental principle that discovery gave exclusive title to those who made it."   (and don't forget those Papal Bulls!)

***Collecting Stories (or just plain theft)
(It should be: The theft of Art from numerous Tribes now on display and we interpret it for you!)  Opening April 2018, the first exhibition, "Collecting Stories: Native American Art," explores the range of perspectives, motives, and voices involved in building the early holdings of Native American art at the Museum of Fine Arts, Boston, including those of indigenous artists and communities. (big fancy words). See EXHIBIT

By LT (not feeling well)

I have been reading Injuns, Native Americans in The Movies, trying to figure out when most of us in North America were duped into believing that Indigenous First Nations, my people, my relatives were ignorant savages.  MOVIES (and dime novels) were the perfect method to create a tidy version of America's history that wasn't factual. When exactly did Injuns become less than human and their entire tribal communities expendable? And remember it wasn't murder. No. It was Massacre. (AH, take a deep breathe, a sigh of relief, all those Injuns are dead.) Was that a safe way to make the Pilgrim colonists feel less guilty and not portray them as serial killers?

As I was taking notes, I wrote:
How hard would YOU fight if this land was invaded in 2018?  Would YOU fight to the death to protect your family and your nation?
Would you run or would you fight and risk death?
When this was all over, now all of us conquered, Empire writes about it, not you. Empire makes movies showing us as dumb ass people who couldn't figure out how to fight back and win.  Ah yes, some noble people tried diplomacy but the majority died in battle.

You see, we are ALL Indians.  Depending on the Empire that invades us, everyone left alive will be forced to join their religion – whether you like it or not. That's the missionary's part of the plan. (though I'm sure murder isn't condoned in this religion) (and of course, the Empire imposes new taxes and tithes…) Your old religion is  illegal, too, so don't even balk!

In order to build the new Empire, some of us become worker slaves. And if we don't work fast enough or efficiently enough, well that's simply not acceptable. There is punishment for that. Rebellion? Hell no, we get declared terrorists and off to prison we go… Or maybe this happens again: Ida B. Wells and the Lynching of Black Women
How should we react? Invaded, hunted, displaced, colonized? Yes, we are all Indians when this happens.

I did get some bad news on my health on May 2. It's an aggressive cancer. That means I won't be blogging for awhile. Keep good thoughts for me. My email: laratrace@outlook.com. Be back as soon as I can.
Surgery is May 14 at noon in Springfield, MA. Send prayers.
XOX