Former Indian school student remembers good, bad times
By CHRISTINA LIEFFRING SOURCE
GENOA, NEBRASKA — Sid Byrd, a former student at Genoa Indian Industrial School, opened his talk in August at the annual school reunion with a story about his name.  "My middle named used to be Oliver, but I changed it to Howard because I got sick and tired of initialing S.O.B," he said.
The 97-year-old (or 97 winters, as his tribe says) is a gifted storyteller who managed to slip in slivers of humor while recalling the hardships and discrimination he faced while attending the Indian school.  Byrd grew up in Porcupine, South Dakota, as a member of the Flandreau Santee Sioux Tribe. In 1927, Byrd was sent to the Genoa Indian School to receive a Western education. His biggest struggle as a child was learning to speak English. Byrd, who grew up speaking Lakota, said English had many sounds that did not exist in his native language. And children were harshly punished for speaking their own language.
Byrd recalled a story of a little boy who was crying one night while others were sleeping and began to pray in his native tongue. He was reported and punished by being sent to "the hole."
"God hears all prayers, whatever language," the boy told Byrd. "Was it wrong for me to pray?"
Standing Rock Tribal Nation needs your HELP with their big standoff with Big Oil #NoDAPL:
On HEROES:
According to Joseph Campbell, the hero emerges from humble beginnings to undertake a journey fraught with trials and suffering.  He or she survives those ordeals and returns to the community bearing a gift — a "boon," as Campbell called it — in the form of a message from which people can learn and benefit.  So, properly, the hero is an exceptional person who gives his life over to a purpose larger than himself and for the benefit of others. Campbell had often lamented our failure as human beings "to admit within ourselves the carnivorous, lecherous fever" that seems endemic to our species. "By overcoming the dark passions," he told Moyers, "the hero symbolizes our ability to control the irrational savage within us." READ
*******************
By Lara Trace
I'm back (blazing a bright new writing path I hope). A big birthday happens for me in a few days. I have a 9-9 birthday. This year is 9-9-9.  That can mean an end or completion. At this six decade milestone, I find myself more excited to plan the next 30+ years… There is more… more adventure, more everything.  Sid Byrd the survivor is my inspiration – 97 and still telling stories!
As this presidential campaign makes abundantly clear, no hero is going to swoop in to save us. We have to be our own heroes.
How you/me/we SEE the world and VISION the future, that matters most.
These massive overt and covert military defeats prompted one former CIA acting director to campaign for the killing of Russians and Iranians in Syria during an interview in the mainstream media. (Really?)
See Real Politik for more on this bizarre behavior and war business and global-power struggle
War is a global industry. As Americans, we don't have bombs hitting our house and all these world conflicts are massively confusing and frightening. There are powerful people (very few) making decisions we don't agree with or understand, obviously.
Then this happened. This image (below) of Umran, a little Syrian child, age 5, gripped the world. It shook us awake.  We ask (and ask and ask), why is any war or this war necessary?  What is the religious or political dogma behind it?  Why are there so many militarists at war?  Does war bring peace or more war?  Who benefits from any war?    Who are all these Arms Dealers and weapons manufacturers*?  [The arms industry is one of the most profitable and powerful industries in the world.] Who are the private contractors?  Who decides who drops the bombs?  Who wants What?  Is this war in Syria about oil (again) or seizing land or just another tribal conflict you/me/we can't understand?  Who knows the truth?  Why and how did the US evolve in to this righteous world bully?  Who today is better at being the conqueror: Russia, China or America? Or are we seeing another illusion (again) and is something bigger manipulating us like pawns and puppets?
Does this small child understand the powers-that-be who bombed his village, his family and killed his brother?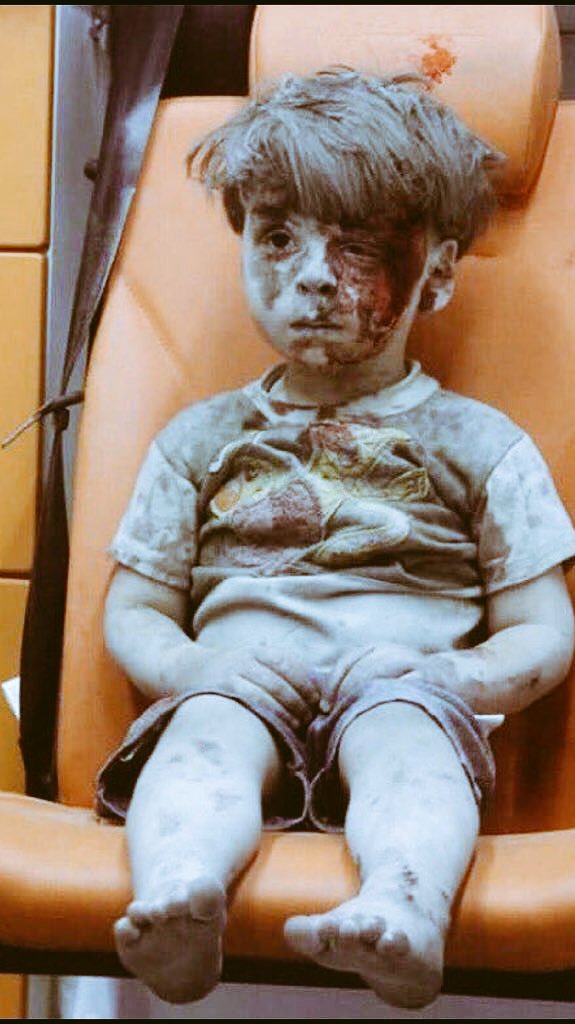 What I've learned from many elders is we are all related, all human. There will always be disagreements, feuds, conflicts.  People create reasons, dogma, and rationale to fight and make war games on each other.  We can also disarm.  We can also negotiate.  People can always choose to negotiate, to unite, to stand down, and to not kill. (People must unite.)
How in the world? MAKE PEACE in your own family, in your own corner of the planet, in your own community, in your own heart!
If you/me/we don't, many more children will be harmed and killed.
US Has Killed More Than 20 Million In 37 Nations Since WWII *Weapons manufacturing is a $400 billion dollar industry. 6 of the 9 most powerful weapons companies are located in the U.S
In a recent speech by the Pope at the Vatican, he denounced the leaders of the war/weapons industry of being greedy tyrants, profiting from other people's deaths:
"This is why some people don't want peace: they make more money from war, although wars make money but lose lives, health, education. The devil enters through our wallets."
Ask yourself: Who makes the money?
{p.s. Hope you like the new blog design. It still needs tweaks…xoxox}
Save
Save
Save