By Lara/Trace (2014) updated 2020

After the speech on immigration by Obama, I decided it's time you and I confess some of us are descendants of immigrants!
So I decided to google: My (adopted) grandmother Romaine Baert immigrated from Belgium as a child. She and her brother Emil arrived at Ellis Island in New York City (circa 1900). How did she become a US citizen?

One google answer was from the Italian Ministry of Foreign Affairs:

My great-grandmother emigrated from Italy to the USA and married an American. Do I have a right to Italian citizenship? LINK


By Italian law a woman could not pass on the right to citizenship until January 1st 1948. You would have to verify whether your grandmother maintained her Italian citizenship – and therefore did not become an American citizen – at least until the birth of her son/daughter, which had to have taken place after January 1st 1948.
Hmmm, a bit confusing, right? I didn't find an answer. I had to think about that and the boatloads of people who arrived on these shores not that long ago and in the past centuries; some of these immigrants I do share blood with.
My adopted family name DeMeyer (BAERT) is from Belgium, not my blood, and they are recent immigrants.  My family name KILDUFF is the name of one maternal great-grandpa who immigrated from Ottawa to Wisconsin. One of my cousins Peter (in Ontario) sent me our history about the Kilduff migration from Eire (Ireland) to Quebec to Ottawa. There lies some of my immigrant roots.
My other cousin Charles helped me to trace my BLAND ancestry (The Northern Neck Blands of Virginia) (the bad ones, the dark ones) (our inside joke) dating back to Virginia and Kentucky. (They settled here 300+ years ago.) They came here on boats too.
In my adopted family, my maternal adopted grandma Kathryn was from Great Britain. I knew her. She never lost her British accent! Since she came on a boat and married an American, she became American (circa WWI)… (I seriously doubt they did a background check on Kath or any of my immigrant grandparents.)
All of these ancestors were immigrants – callously unaware or ignorant of the fact they were INVADING a continent filled with people. This land was occupied by Indigenous People who were hunted, murdered and removed to reservations to make way for THEM, boatloads of immigrants.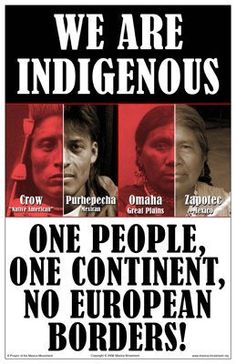 We are a hemisphere of immigrants. So remember that this Thanksgiving Day Nov. 27.  Think about who we should be thanking for this land, this bounty, this country we call America.  Remember this modern holocaust is still going on, still being felt, still being lived by my other relatives who are Indigenous. (Indian Country is a poverty-stricken Third World still surrounded by America.)
At your Thanksgiving feast, ask your own family, how did your grandparents (or great-grandparents) become citizens?
******************************
In the News
TWO WORLDS: Helping Scholars Understand Indian Adoptions
Book Review by Author Margaret D. Jacobs: (Excerpt) Though not scholarly, this book Two Worlds is of great significance to scholars of Native American Studies…
LINK: AMERICAN INDIAN ADOPTEES: Lost Children, Lost Ones, Lost Birds
*******************************
Number of Aboriginal children in care a 'national disaster' : APTN Report on Number of Native Kids in Care in Canada